The company carried out the eighth "Golden Autumn Dream" student aid activity
---
It is also the beginning of a year of college, and it is also the time for a group of college entrance examination students to realize their dreams. On the eve of the opening of the university and the enrollment of the freshmen in the golden autumn season, the company carried out the eighth "Golden Autumn Dream" student aid activity to send blessings and encouragement to the new college students. On the morning of August 23, the meeting room on the second floor of the company was beaming. The eighth "Golden Autumn Dream" student aid symposium for Yaosheng Tungsten's employee children was held. More than 20 newly enrolled college students from the company's employee children gathered together to report the gratifying results of the college entrance examination to the company, talk about the goal of diligent learning after entering the university, and accept the eighth batch of "Golden Autumn Dream" student aid system since the establishment of the company
It is also the beginning of a year of college, and it is also the time for a group of college entrance examination students to realize their dreams. On the eve of the opening of the university and the enrollment of the freshmen in the golden autumn season, the company carried out the eighth "Golden Autumn Dream" student aid activity to send blessings and encouragement to the new college students.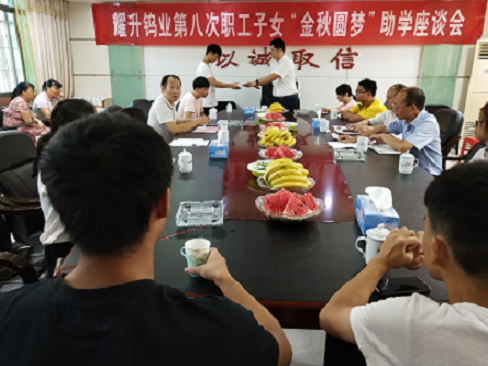 On the morning of August 23, the meeting room on the second floor of the company was beaming. The eighth "Golden Autumn Dream" student aid symposium for Yaosheng Tungsten's employee children was held. More than 20 newly enrolled college students from the company's employee children gathered together to report the gratifying results of the college entrance examination to the company, talk about the goal of diligent learning after entering the university, and accept the eighth batch of "Golden Autumn Dream" student aid awards since the establishment of the company's "Golden Autumn Dream" student aid system.
Guo Huabin, the chairman and general manager of the company, delivered a congratulatory speech at the symposium, and personally awarded each college student a bonus red packet, encouraging all college students to keep their heads above water, continue to work hard, achieve academic success, and repay the motherland and society with excellent academic achievements.
Jiang Xingming, Secretary of the Party Committee and Chairman of the Board of Supervisors of the Company, attended the meeting and made a speech. He hoped that all college students would adapt to the new study and new life as soon as possible after entering the university. First, they would continue to mature politically; Second, make continuous progress in study; The third is to be independent in life. Through their hard work, they have grown and matured and become a generation of ambitious young people in the new socialist era.
Li Zhangyue, the executive vice chairman of the trade union of the company, presided over the symposium. Zhang Xiaoming, a trade union cadre, organized a roll call for new college students. Liu Delu, a trade union cadre, introduced the company's development.
At the symposium, all college students introduced themselves and talked about their personal feelings; Chen Yi and Guo Sheng, representatives of college students, delivered speeches at the conference.