Yaosheng International Hotel undertakes the 2018 Skills Competition of Chongyi County Federation of Trade Unions
---
In the afternoon of September 5, Hall 3 of Yaosheng International Hotel was crowded and bustling, and the 2018 Skills Competition of Chongyi County Federation of Trade Unions hosted by Yaosheng International Hotel was held in a tight and orderly manner. The competition is divided into two categories: team skill competition and individual skill competition. The team and individual from the front office, guest room, finance, catering, safety and fire, engineering and other departments of Yaosheng International Hotel participated in the competition. After an hour of intense and orderly competition and evaluation, the competition produced the first, second and third prizes of team skills and the first, second and third prizes of individual special skills. This skill contest fully demonstrated and tested the professional skill level and
In the afternoon of September 5, Hall 3 of Yaosheng International Hotel was crowded and bustling, and the 2018 Skills Competition of Chongyi County Federation of Trade Unions hosted by Yaosheng International Hotel was held in a tight and orderly manner. The competition is divided into two categories: team skill competition and individual skill competition. The team and individual from the front office, guest room, finance, catering, safety and fire, engineering and other departments of Yaosheng International Hotel participated in the competition. After an hour of intense and orderly competition and evaluation, the competition produced the first, second and third prizes of team skills and the first, second and third prizes of individual special skills.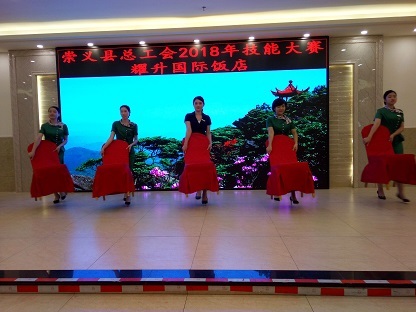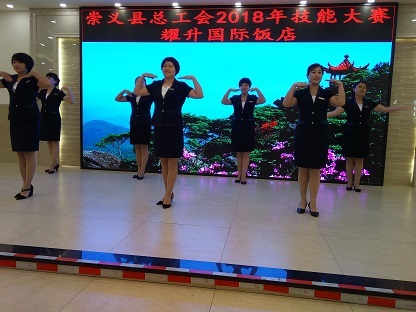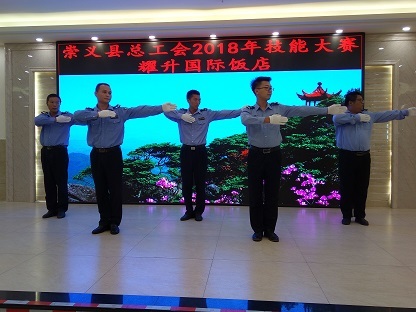 This skill contest fully demonstrated and tested the professional skill level and good image of Yaosheng International Hotel, and effectively promoted everyone in Yaosheng International Hotel to learn skills, study skills, and constantly improve the awareness of professional skill level, so as to further create a strong atmosphere of dedication, quality and innovation.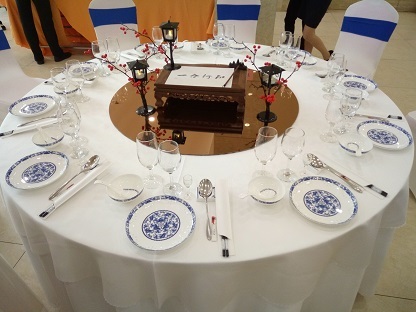 Relevant leaders of the Federation of Trade Unions, the County People's Social Security Bureau, the County Tourism Development Commission, the County Employment Bureau and other departments visited the competition site to observe and guide, and awarded prizes to the winners; The person in charge of the Party Committee and the Labor Union of the Company observed the competition and participated in the award ceremony.